HARRISON architects
lyrical sustainable design
Our projects range from modest kitchen renovations to high-end new homes and cabins, placing an equal emphasis on style and function, woven together with the thread of ecological design, and mindful of cost. We are intrigued by multigenerational houses, backyard cottages, co-housing, townhouses and multi-family projects. We can bring the Passivhaus approach to any of these building types. With deep roots in Seattle, we are uniquely qualified to help you create lasting, beautiful buildings.
We hope you enjoy our site and find it useful. Please contact us if you would like to talk to us about your project. We'd love to hear from you.
Cheers,
Rob Harrison
Passion. Innovation. And a lot of coffee.
"It was a very unusual situation, the project was in Hawai'i. I wanted local knowledge, but there just wasn't anyone here who had anything close to Rob's level of knowledge and experience in sustainable building. I called the president of the local AIA to check. I visited his office in Seattle, met his excellent team, and visited three clients. That was enough to convince me.
Read More
Rob came out to Hawai'i for an initial site visit. The first thing I needed was a presentation for the neighborhood and potential investors. The HA team put together a wow of a program, and Rob and one of his associates came back to present it. They showed presentation to several audiences, some of them rather tough (neighbors) and his deep knowledge won them all over. One of them was in a neighborhood coffee shop, and he literally got a standing ovation. When was the last time that happened to a developer?
His thoroughness, creativity and sensitivity are remarkable. He is both idealist and realist, especially when it comes to the budget.
Sadly a series of unfortunate events followed, and the project did not get built–not his fault. Working with Rob was a complete joy."
"I have known Rob for many years, both as a design professional and as a community member dedicated to sustainability in the built environment. Rob has always forged ahead of the mainstream, while taking great care in his work. For that reason, I relied on Rob when I wrote "Green Home Primer for the Northwest" – he was the source of the book's advice regarding green project specifications and plans. We also shared the early days in the Northwest EcoBuilding Guild, before "green" building (and especially "sustainable" building) became the buzz word it now is. Rob is the real thing!"
"Rob is a creative, principled, and client-centered architect. I am passionate about sustainability and am on a tight budget. Rob shares my passion and understands budgets."
Our job is to turn your ideas and aspirations into imaginative, workable solutions – and it's what we love to do. When you contact us, we will run through a "reality check" with you on the phone to make sure the budget you have in mind will cover the work you'd like to do. If that conversation is positive, we arrange to meet to discuss what you would like to achieve both now and long term. We'll walk around your building or site, talk about your ideas, offer some of our own, and see if there's a good fit between our skills and your needs.
We've outlined our aspirations for the work we do in our own "manifesto." Our goal is to make a place for you that fits like a glove, works like a charm, and doesn't cost you more than you want to spend. Our cards are on the table – now it's your turn!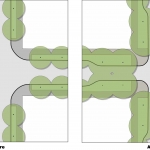 Urbanists love trees. Let's just get that out of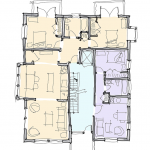 What if "public housing" meant a house-sized building with