On November 2nd, King County rolled out an exciting update to their Strategic Climate Action Plan. It is indeed bold! So much to love about it! Among a wide range of excellent goals for transportation, operation and maintenance, there's a whole section of strategies devoted to reducing carbon emissions through green building, among them:
Energy code  Work with the State Building Code Council and King County cities to develop, adopt, and implement bold residential and commercial energy codes, reducing energy consumption in new buildings to net zero by 2030.
Green building  By 2030, 100 percent of new developments achieve Built Green Emerald Star, LEED Platinum or Living Building Challenge standards.  [Action Plan Section 1, p21]
And…
Support Third Party Development and Green Building Programs. King County supports diverse third party green building certification programs to increase the value of green buildings, to help build regional capacity to implement green building programs, and to support verification of the environmental benefits of such programs. Promotion and support is delivered in the form of technical assistance to and in partnership with: community forums, conference participation, code development, training development, pilot projects, research and sponsorships of programming. These programs and certifications include LEED, Built Green, the Living Building Challenge, Evergreen Sustainable Development Standard (ESDS), Salmon Safe, Sustainable Sites Initiative and Envision in partnership with the Master Builders Association, Cascadia Green Building Council, International Living Future Institute, WA State Department of Commerce, and the Northwest EcoBuilding Guild. [Action Plan Section 1, p54]
This is truly great stuff.
100% of new buildings in the County to net zero in the next 15 years!
I am inclined to agree with Denis Hayes in his assessment of the plan. It is "
the best he's seen.
" But (of course) I have a question for the authors of the plan:
Why is there no mention of Passive House?
Passive House is an internationally recognized energy standard—the most rigorous in the world. To cite just two examples of large progressive jurisdictions which have embraced Passive House:
New York City looks to Passive House in Mayor de Blasio's One City proposal (pdf). Passive House is booming in New York City. There's a 27-story Passive House dormitory under construction on Roosevelt Island.
After a wildly successful Exemplary Buildings program, as of January 1st of this year Brussels, Belgium requires all new buildings to be Passive House. Ten million square feet of ultra-low energy Passive House and net-zero buildings have been built in Brussels since 2007. (Ten million square feet = 200 Bullitt Centers.) I recently met the originators of that program, A2M Architects, here in Seattle, and took an iPhone photo of one of their slides, which shows the effect the Exemplary Buildings program has had on energy use and GHG emissions in Brussels: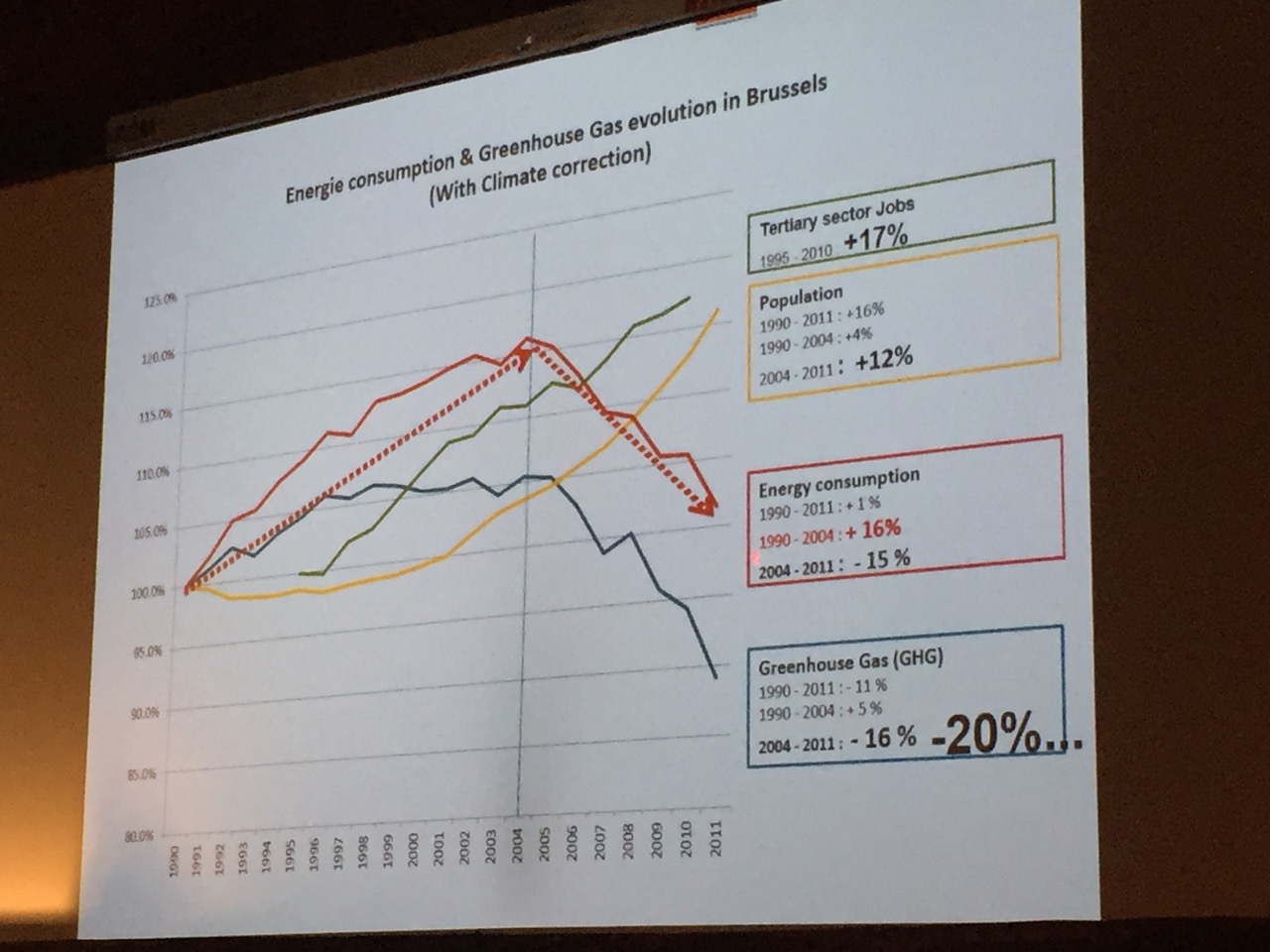 I am a big fan of Living Building Challenge but it is a lofty star on which to hang our climate aspirations. As of this writing, worldwide there are 300 Living Building Challenge buildings registered with the program, totaling over ten million square feet of building. There are 25 certified projects. Of those, eight have achieved Full Certification, six have received partial "Petal Certification", and twelve have achieved Net Zero Energy Building Certification. Two of the fully certified buildings are in Seattle, the Bullitt Center and a portion of Bertschi School. In terms of their impact on climate change, water resources, human and ecological system health, these buildings are very close to perfect. But they are rare, and they are expensive. According to its wikipedia, the Bullitt Center cost $355 per square foot to build.
On the other hand, there are over 40,000 Passive House buildings in Western Europe, including office towers, police stations, community centers, schools, libraries, multifamily buildings and single-family homes. Of those, over 3,000 are certified by the Passive House Institute. (You can see and search for Passive House buildings in this database.) Ten million square feet of net-zero and Passive House buildings have been built just in Brussels (which is about the same size as Seattle) in the last eight years. And they are all being built for the same cost as conventional construction. Let me repeat that:
In Europe, they are able to reduce energy use for heating and cooling by 90% (and thus more easily get to net-zero energy) merely through making good design choices, and implementing strategies that cost no more than building a building that uses ten times the energy.
There are now about 200 certified Passive House projects in the United States, and growth is exponential here as well. Passive House multifamily buildings are being built for cost parity in New York City (by Chris Benedict) and Philadelphia (by Onion Flats), and for about a 10% premium in Portland. Mike Steffen of Walsh Construction, who built the Orchards at Orenco, a 57-unit affordable Passive House building in Portland for about 10% over conventional construction, recently back-of-the-envelope ballparked $175/SF for apartments and $190/SF for office space for a 10,000 SF Passive House multifamily mixed use building for which I was doing a feasibility study. My Multigenerational Passivhaus (also 10,000 SF) was priced at $150/SF (exclusive of sitework) this past summer. The 30-unit affordable multifamily Passive House townhouse project on which I consulting (with Jay Lazerwitz) was estimated at $167/SF—on Orcas Island! To hammer this home, for office space:
Passive House = $190 per square foot. Living Building Challenge = $355 per square foot.
Of course, these costs will vary for every project, and LBC will get less expensive to do as more are done, and products become more widely available…but the same could be said for Passive House! The takeaway is the relative proportion of the construction costs between these two approaches. Would it not be fiscally responsible for King County to consider Passive House, both as a strategy to promote for all building under their jurisdiction, and for their own in-house construction?
By the way, I was pleased to see the 
Green Roof Workshop
 designed by my office on the cover of the Plan. In fact, I think that might be a photo from a talk I gave at DDES years ago. We received a King County Earth Hero Award from King County Executive Ron Sims for that project, the first permitted green roof in King County.